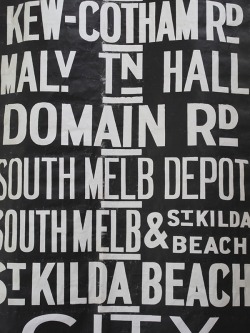 We would have never imagined that we would go to Melbourne during this trip! But after travelling 1 year in Asia, we thought that it was a good idea to improve our English. And near Asia, the best place for learning this language is Australia. We thought at first about going to Perth but finally, for some reasons, we decided to go to Melbourne.
When we arrived it was like a shock after 6 months in India because everything was clean and silent. We found a bad room in the city center (YHA Backpackers) for one night and finally we moved to a beautiful guesthouse in South Yarra. It was so nice, quiet and clean, with a beautiful kitchen and a lovely terrace for less expensive that the first one. I recommend this place if you want to stay few days in Melbourne, it's called St Arnaud Guesthouse and the area (South Yarra) is good and near everything, just a few minutes from the gorgeous botanical garden.
You should imagine that if you want to stay 3 months in Melbourne, you wouldn't be able to sleep every night in a guesthouse. It's too expensive. We started searching for a room on the website gumtree.com.au. Finally, we found a simple room for $AU 300 per week (the average fare is between $AU 150 and $AU 300 for a double room in a shared flat/house per week). We took this room because we wanted to leave the guesthouse; it was the last solution at that moment. The room was terrible, just in front of Punt Road. The window was broken and we were like in the street with a lot of noise from the road. The place was so dirty and cold, with strange people in it. After we spent one week in this room, we decided to make a flyer with some information, our picture and budget because we didn't find a good room on Gumtree. Never say die!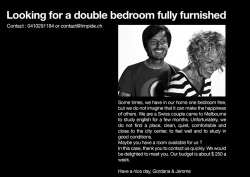 We printed 200 flyers and put them in mailboxes in South Yarra. In that area, you can find a lot of beautiful and big houses. I told myself "there is probably one empty room for us in those houses! " After 2 days, one woman called us she had a room for us. We went to visit and it was like the paradise. A contemporary house in a small and quiet street in South Yarra was a nice present for us. We can say thank you to the sky! We took the room and we stayed there for less than 3 months.
We had a room! The next step was finding a school to learn English. We found 3 schools and we tried each one of them. Finally, Lyceum school was the best one. The price, the teacher and the age average were what we were searching for.
We took a course for 10 weeks. It was a really good experience for us. All the students and teachers were so kind and we learned a lot. You can see directly the result now because it's my first article in English on my website! I will get used to it! Thank you Matt (it's my teacher).
What about Melbourne? After 3 months, we can tell you what we felt. It's a pleasant city with a lot of green space and nice architecture. You can breathe and feel like in the countryside. You can find a lot of parks but if you don't like that, you can spend your time on the beach or trough some area around the city center. The good thing in Melbourne is that you can find different lifestyle in each area like if you went from a village to another. They is not only the city center in Melbourne! If you like to ride, it's a city for you. It's so nice to discover the city by bicycle and cheaper than the tram! For example, you can ride from Port Melbourne to St-Kilda in front of the beach, amazing experience! But in April, the winter comes step by step and it is a good idea to put your bike in shelter and use your Myki card (name of the public transport card in Melbourne)!
About the weather, it was so crazy. In one day, you could be in summer at morning and in winter at the afternoon with 15 C degrees less! Because of that, you need to have a jacket with you the entire time. Or, if you are from Australia, don't worry about that, you can wear light clothes from 10°C to 30°C!
There are so many good places in Melbourne, it depends what you like. We spend a lot of time in the Botanical garden, and especially in Fawkner Park (just a few minute from there). In summer, it's so great to be there for a rest or for doing your favourite yoga! If you like shopping or wilt on the street, Chapel Street it's a good way! You can find everything from luxury shop to second hand shop and also buy some vegetables or Italian specialities in Prahran Market. Now, if you prefer some alternative places, you can go to Fitzroy (Brunswick Street) or Smith Street. It's especially good if you want to have a drink in the evening or see a concert. But it's good too for shopping. Otherwise, you can stroll at the edge of the Yarra River and see the people rowing.
I think Melbourne is the best place in Australia to find good restaurants. You can eat everything, from Asia to Europe passing through South America. Sometimes it is very good, sometimes bad! We recommend the famous pizzeria DOC in Carlton. It will be a magic moment if you like pizza! Unfortunately, we didn't find a lot vegetarian restaurants. Australian people love meat! So, it was hard to find a good vegetarian place with organic food. Australia is a little bit behind compared to Switzerland. You have to be rich if you want to be vegetarian and eat organic food. The meat is very cheap if I compare it with my country. You have the choice to eat healthy food and become poor or become rich with bad food! I'm joking!
Everything is expensive but we were so surprised how the Australian people are used to going out and eating out. All of the bars and restaurants are full all the time! The price for one small beer is between $AU 5 and $AU 10, one glass of wine will cost about $AU 10 and the food starts from $AU 10 for fast food until what you want! And you can't imagine how many restaurants you can find in Melbourne…
We think that it is possible to earn a good living if you have a good restaurant, especially if your cooking is original and healthy. The people from Melbourne like to try a lot of things and they are not afraid by this but curious. I'm not sure if they like trying new things only because it is fun and fashionable or because they really appreciate the food?
Therefore, if you are smart and creative, open a restaurant in Melbourne and you'll earn a lot of money!
We have realized that people from Melbourne are much more materialistic than Swiss. We couldn't have imagined it before. For example, you can see the people who wear special clothes for each sport they do! I take my bike, I wear this short but for my jogging, I prefer wear this short and this t-shirt because it's made for that! Of course, women put make up to go running and to look good, it's important.
I was so surprise while I was riding my bicycle to go to school. In Switzerland, people use their bicycle just to get to a place from another place and not really for sport. In Australia, people use their bicycle for sport, moving isn't the most important thing. Therefore, I was the slower rider in Melbourne because for me it was like a simple ride but not a sport feat!
We spent one week in Adelaide and it was impressive to see the difference with Melbourne. Apart from that Adelaide is so boring; the people there are poorer, angrier, sadder and fatter! But we didn't live in Adelaide for three months and our vision particularly comes from our experience in Melbourne. Some people from Melbourne are certainly poor, especially in the suburbs; we knew that. But for us, it was not too much visible.
Finally, we can say that Melbourne is a great city to live in and we enjoyed this experience.